President Michael T. Wood, PhD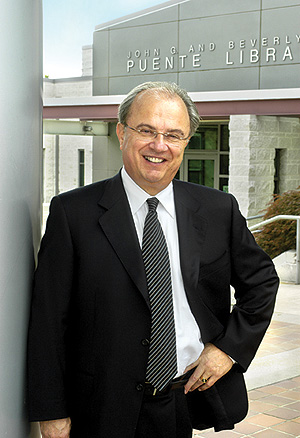 Dr. Michael T. Wood became Capitol Technology University's seventh president on June 1, 2004. An industrial psychologist and educator with more than 30 years of experience, Dr. Wood has established himself in the fields of business leadership, research and consulting. Prior to his appointment as college president, he was vice president, dean and professor at Walsh University of Accountancy and Business Administration in Troy, Michigan.

Dr. Wood was director of the Social Change Study Center at the Battelle Memorial Institute, where he worked with business and government on issues of organizational effectiveness, health care, population studies, science and government policy. From 1986-94, he worked with the Industrial Technology Institute in Ann Arbor. He directed the Social and Economic Issues Center and was director of program planning and development for the institute.

Among Dr. Wood's consulting clients were General Motors, Ford, Chrysler and many firms in the automotive supply chain. He has also worked with Whirlpool and General Electric. Government customers have included the Navy, Army and Air Force; the Departments of Labor, Transportation, State and Health and Human Services; the Nuclear Regulatory Commission; and the U. S. Postal Service.

Dr. Wood served on the adjunct faculties of the University of Washington and Pacific Lutheran University while with Battelle. He joined Walsh College in 1994 as director of the master of science in management program. He then became vice president, chief academic officer and dean of the college, and he served for a year as interim president. At Walsh, he helped develop several academic programs and fostered alliances with business and industry.

As President of Capitol Technology University, Dr. Wood has led the development and growth of programs in business, engineering, and information technology. Capitol is a National Center of Academic Excellence in Information Assurance Education, as designated by the Department of Homeland Security and the National Security Agency, and manages a multimillion-dollar Space Operations Institute for NASA. The University recently launched a new Innovation and Leadership Institute to provide educational opportunities for current and future technology leaders. Dr. Wood serves on the Board of the Corridor Transportation Corporation, and on the President's Advisory Council, and Education and Workforce Committee, of the Greater Baltimore Committee.
Dr. Wood received a bachelor of arts from the University of Michigan and a master of arts in industrial psychology from the University of Toledo. He holds a doctorate from the University of Illinois in industrial and organizational psychology. His dissertation on leadership and group decision-making received the national award as best in its field from the American Psychological Association.

Dr. Wood and his wife, Wanda, have two adult sons and two grandchildren who live in the Seattle area.